The McCluskey family has farmed the hills and valleys of Shillelagh Glen Farms, milking cows, raising beef, and "sugaring" or making maple syrup, for over 125 years. The tradition began in 1886 when our great-grandparents came to Shillelagh Glen Farms by way of Counties Donegal and Mayo, Ireland. Three brothers, Kevin, Patrick and Brian, continue this tradition today.
Shillelagh Glen Farms is a grass-based farm. This means that our livestock (both dairy and beef herds) are raised on pasture and eat only two things: their mom's milk and our pastures. No grain. Ever. (In winter we feed hay and haylage harvested from our fields.)
Our 63 milk cows graze the rolling pastures and drink from the spring-fed streams of Shillelagh Glen Farms. Twice a day, every day, we milk our cows to bring you McCluskey Brothers certified organic cheese. We make our Seasonal Grass-fed cheese and curd only in the spring, summer and fall, when "our girls" are grazing the pastures of Shillelagh Glen Farms. Only "our girls'" milk is used to make our Seasonal cheese and curd; we do not pool our milk with other farms. Each season imparts its own flavor. Taste the sunshine!
In late fall, winter and early spring - when "our girls" can't be out on pasture - we feed them stored feed (hay and haylage harvested from the fields of Shillelagh Glen Farms). During this time we pool our milk with three neighbors to make our cheese. While each of these neighbors is certified organic, some may feed grain. All are non-GMO. Look for our cheese and curd on our Cheese page. Our Seasonal Grass-fed cheese and curd specify "Seasonal" and "Grass-fed" in the product name and description.
We also raise certified organic, grass-fed beef. We offer three cuts of beef: tenderloin, rib-eye and "whole beef" premium ground beef burger. Where's the sirloin, N.Y. strip and rump roasts? They're in our ground burger! That's why it's "whole beef" premium: all the steaks and all the roasts - all the cuts...the "whole beef" - are ground together to make our burger except two cuts (rib-eye and tenderloin, sold separately). So though we can't sell you a sirloin steak, we can sell you McCluskey Brothers premium ground burger. Not your usual "trim" ground beef and more than ground sirloin, our "whole beef" premium ground beef burger stands alone at the top of the class. The flavor is superb!
Interested in cuts other than premium burger, rib-eye and tenderloin? Why not consider our "beef share" program where you may purchase a 1/4 or 1/2 share of a steer? We generally harvest our beef for this program twice a year (spring and fall), but will change this schedule if weather and pasture conditions require. If you'd like to be notified of our next beef harvest, please contact us and we'll add you to our beef share email list.

Late winter finds us in the woods, tapping maple trees. As the days start to warm yet the nights stay cold, the sap in the maple trees begins to flow. We collect that sap and cook it down to 100% pure maple syrup - nothing but nature from the maple trees of Shillelagh Glen Farms! A natural sweetener (no GMO worries here!), maple syrup is a mainstay in our farm kitchen. Look for recipes on our Blog and shop for the sweet stuff on our Maple Syrup page.
About Our Organic Certification
The McCluskey Brothers at Shillelagh Glen Farms have been certified organic since 1996. Our certifying agency is International Certification Services, 301 5th Ave., Medina, North Dakota 58467. Our Certificate Number is ICS-04708-2010.
About Our Cheesemaker
The McCluskey Brothers have sent milk to Cedar Grove Cheese in Plain, WI for as long as anyone around here can remember, which means we've been sending our milk to Cedar Grove for over 50 years. No strangers to award winning cheese, Master Cheesemaker Bob Wills and his crew at Cedar Grove are true craftsmen, using their expertise and skill to make only the finest quality cheeses. In fact, Bob is one of only two cheesemakers in the United States who has earned Master Cheesemaker certification for Butterkaese, and he is one of twenty-three U.S. cheesemakers holding Master Cheesemaker certification for Cheddar.
Cedar Grove Cheese is certified organic by Organic Crop Improvement Association (OCIA International).

Seasons at Shillelagh Glen Farms
Autumn colors.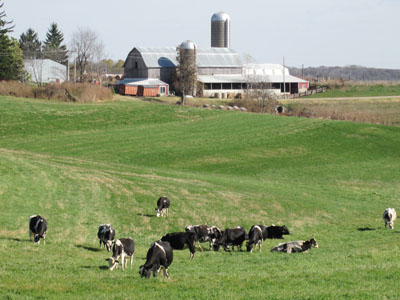 Fall grazing.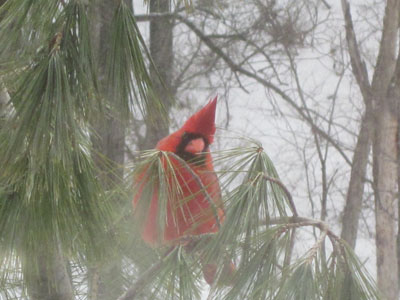 Winter arrives...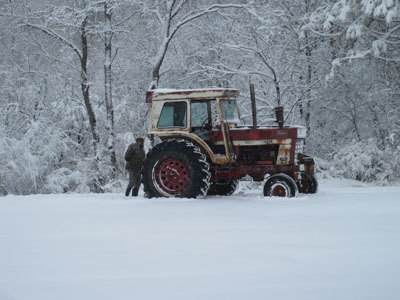 ...for everyone.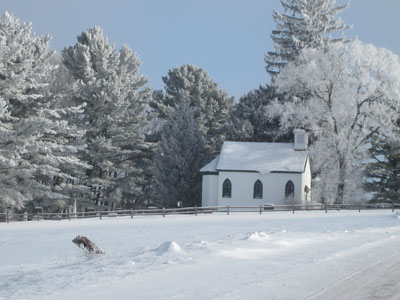 Shillelagh Glen Farms surrounds Our Lady of the Fields Chapel. "The Chapel" was the place of worship for the early settlers of Loreto Ridge, the ridge Shillelagh Glen Farms calls home. Many of these settlers and their descendants are buried at The Chapel graveyard. Here you will find names such as Fargen, Rice, Scallon, Murray, Drea, Byrne, and, yes, McCluskey on the tombstones.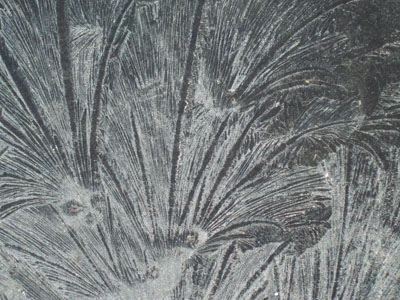 Frost on the glass of our cold frame. Yes, there are plants under here...waiting for warmer weather.
Winter sunset and the hickory tree.