The McCluskey family has farmed the ridges, hills and valleys of Shillelagh Glen Farms for four generations spanning 125 plus years. Our tradition of milking cows, raising beef, and "sugaring" or making maple syrup began in 1886 when our great-grandparents came to Shillelagh Glen Farms by way of Counties Donegal and Mayo, Ireland. Three brothers, Kevin, Patrick and Brian, continue this tradition today.
We grew up on Shillelagh Glen Farms and have lived here all our lives. We know the best place on the farm to hide for "hide and seek", and where Red's tree is (and why it's called "Red's tree"). We can show you the exact spot the hay wagon rolled off Hickory Tree Point and down into Brice's. Two of us jumped off the wagon before it rolled off the Point; one rode it to the end. Farming is in our DNA. It can be over 100° in the hay mow with the temperature climbing as the bales stack taller, or so cold that there's frost inside the barn from moisture in the cows' breath. No matter; we wouldn't have it any other way. Oh, and as for that hiding spot: it's the asparagus patch, but only in full fern.
Our Farming Practices
We manage our farm so it is as self-sustaining as possible (a "closed farm"). Our cattle are all born and raised on our farm, and we grow all the feed for our animals. We pay a lot of attention to soil health and fertility because it matters. We know that you have to start with the soil if you're going to produce milk, cheese and beef of extraordinary quality. We rotationally graze our livestock and carefully manage our pastures for regrowth and nutrient value, growing deep rooted crops to recycle soil nutrients and green manures to build soil fertility. We are a non-GMO farm, and do not use or grow any GMO crops.
Though we're a diversified family farm - we produce beef, cheese and maple syrup (more on these farm products below) - our farming practices are singularly consistent: 100% grass-fed and organic.
Beef
We raise 100% grass-fed Hereford and Normande beef cattle. Our beef herd numbers 25 head and is completely pasture raised with access to shelter in bad weather. Cattle are meant to graze, and that's exactly what they do on our farm with plenty of pasture at hand: Shillelagh Glen Farms is approximatley 800 acres with about one-third of that in pasture and the remaining acreage split between hay fields and woods.
We partner with Weber Meats in Cuba City, Wisconsin to process our beef (Weber Meats is certified organic by the Iowa Department of Agriculture and Land Stewardship), and we sell our beef three different ways: by the cut, bundle, and share.
By the Cut
We offer only three cuts of beef and there's a very good reason for this. It's because we put everything in our burger except the rib-eye and tenderloin. All the steaks and all the roasts (the "whole beef") are ground together to make our burger except two cuts: the rib-eye and tenderloin. Think ground sirloin PLUS! This is not your usual "trim" ground beef and it's why we call our burger "premium ground beef".
Now that you know our burger story, you'll understand why we only offer three cuts:
rib-eye
tenderloin
premium ground beef
In addition to these three cuts, we also offer the following subject to availability, so please inquire:
marrow bones
heart
tongue
liver
kidneys
brisket
By the Bundle
Bundles consist of an assortment of steaks and roasts plus stew meat and burger. Other cuts, such as short ribs, are included as available.
We bundle our beef in 25 pound bundles. Buying by the bundle allows our customers to purchase 100% grass-fed, certified organic beef of the highest quality in a variety of cuts at substantial savings.
Bundles are subject to availability, so please inquire.
By the Share
Have extra freezer space you'd like to put to work and save money? Consider our "beef share" program where you purchase a 1/4 or 1/2 share of a steer. We generally harvest our beef for this program twice a year (spring and fall), but will change this schedule if weather and pasture conditions require. If you'd like to be notified of our next beef harvest, please contact us and we'll add you to our beef share email list.
Note that many of our customers will split a share with a friend or family member. For example, two families will split a 1/4 share so that each family ends up with 1/8 of a steer in their freezer. We're happy to work with "split share" groups that our customers arrange.
Cheese
We milk 63 cows twice a day, every day, to bring you McCluskey Brothers' certified organic cheese. Primarily a Holstein herd, we do have some Jersey and Normande milk cows as well. "Our girls" graze the rolling pastures of Shillelagh Glen Farms and, like our beef herd, are 100% grass-fed.
We make our grass-fed cheese seasonally, from May through November when our girls are on pasture. Hand crafted in small batches and made from our girls' milk only, we're known for our nonpasteurized or "raw milk" cheese (it has a devoted following!), but also make some cheeses with pasteurized milk, including mozzarella and monterey jack with jalapeno pepper.
Each season imparts its own flavor. Taste the sunshine! Check out our Cheese page to see what's on hand.
Maple Syrup
Late winter finds us in the woods, tapping maple trees. As the days start to warm yet the nights stay cold, the sap in the maple trees begins to flow. We collect that sap and cook it down to 100% pure maple syrup - nothing but nature from the maple trees of Shillelagh Glen Farms! A natural sweetener (no GMO worries here!), maple syrup is a mainstay in our farm kitchen. Look for recipes on our Blog and shop for the sweet stuff on our Maple Syrup page.
About Our Organic Certification
The McCluskey Brothers at Shillelagh Glen Farms have been certified organic since 1996. Our certifying agency is International Certification Services, 301 5th Ave., Medina, North Dakota 58467. Our Certificate Number is ICS-05843-2010.
About Our Cheesemaker
The McCluskey Brothers have sent milk to Cedar Grove Cheese in Plain, WI for as long as anyone around here can remember, which means we've been sending our milk to Cedar Grove for over 50 years. No strangers to award winning cheese, Master Cheesemaker Bob Wills and his crew at Cedar Grove are true craftsmen, using their expertise and skill to make only the finest quality cheeses. In fact, Bob is one of only a handful of U.S. cheesemakers who has earned Master Cheesemaker certification (Butterkaese and Cheddar).
Cedar Grove Cheese is certified organic by Organic Crop Improvement Association (OCIA International).

Seasons at Shillelagh Glen Farms
Autumn colors.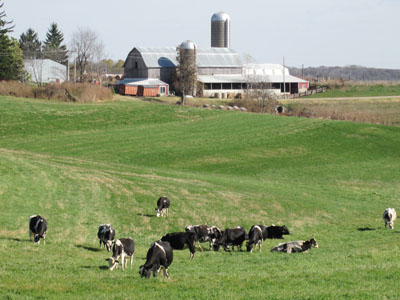 Fall grazing.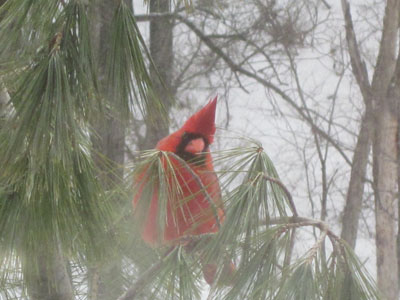 Winter arrives...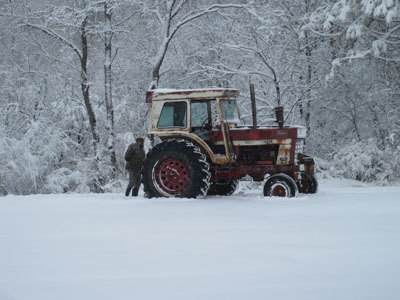 ...for everyone.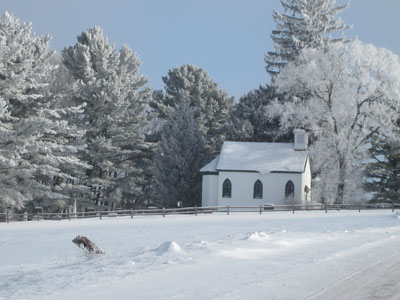 Shillelagh Glen Farms surrounds Our Lady of the Fields Chapel. "The Chapel" was the place of worship for the early settlers of Loreto Ridge, the ridge Shillelagh Glen Farms calls home. Many of these settlers and their descendants are buried at The Chapel graveyard. Here you will find names such as Fargen, Rice, Scallon, Murray, Drea, Byrne, and, yes, McCluskey on the tombstones.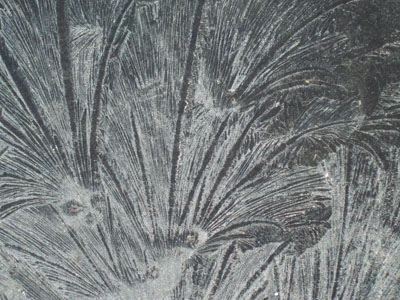 Frost on the glass of our cold frame. Yes, there are plants under here...waiting for warmer weather.
Winter sunset and the hickory tree.